This session saw the 12 members who turned out undertake various tasks around the reserves.
Eric and Sam (our Duke of Edinburgh Award volunteer) prepared 9 birdboxes for erection later in the year - this involved attaching mounting battons to the rear and screwing metal nest hole plates to the fronts (to ward off unwanted residents!). The boxes were then treated with a coat of wood preservative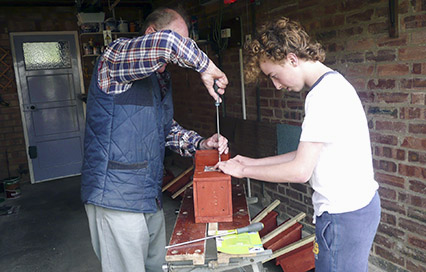 Elsewhere on the reserves, two members undertook the usual litter pick across both reserves, whilst the remainder...
cleared several patches of brambles that were encroaching onto path
cut down and removed a tree that had fallen onto a path
bagged up and removed some flytipped rubbish
planted some more wild primrose plugs

---

The Friends are always looking for extra pairs of hands to help out or to simply support their work, so...

to find out when the next work session will take place, click here, or
to find out about becoming a member please contact us here, or
to discover what goes into managing the sites click here.