General
The diverse vegetation and habitats on Bramcote Ridge (as detailed on the Flora page create a myriad of 'micro habitats' that provide a wealth of wildlife with the specific conditions required for food shelter and breeding sites.

A casual visit to the Ridge will reveal birds as the most conspicuous wildlife in the area, due to their continual movement and/or song. They can be observed throughout the site, sometimes at quite close quarters especially in the wooded areas. Over 50 species have been recorded in the area over recent years, but due to their migratory nature not all will be present at any one time.

But looking a little closer will also reveal an even greater wealth of invertebrates. Butterflies can be seen in the open grassland areas, dragonflies and damselflies flit about near the scrub and woodland edges and many other flying insects can be observed feeding on the open flowers.
Looking more closely amongst the vegetation will reveal ants, beetles, molluscs, spiders and caterpillars, all busy hunting or feeding.
Even under the leaf litter, in the soil and under fallen or dead branches these is a wealth of different species of small invertebrates to be observed.

More difficult to sight are the mammals that inhabit the area, although there are plenty of signs of their presence. 'Tell-tales' such as noises in the undergrowth, droppings, nibbled food or piles of feathers all denote the presence of specific species.
Grey Squirrels are the most noticeable as they are active throughout the year and can be frequently observed in the woodland performing acrobatics between the trees.
Many of the other mammals that are present on the Ridge, such as Fox, Hedgehog and visiting Badger, are predominately nocturnal and are seldom seen. Although foxes can sometimes be spotted during the day and late evening in summer - which is also the best time to bats flitting across the darkening sky.

Although the sandy soils make the site very dry, amphibians such as Common Frog and Toad are also present throughout the site, usually deep within the undergrowth searching for invertebrates. We assume that they migrate onto the site from ponds in the surrounding gardens, as there is no other wetland habitats in the general area.
Usually the best opportunity to see them is by helping with the Friend's habitat management.
Management of wildlife is extremely difficult to implement successfully as individual species form complex inter-relationships with both vegetation and other faunal species (predator/prey). The deliberate intervention in the population size of one species (however 'insignificant' it may seem) may seriously affect the viability of other dependent species in the complex food web.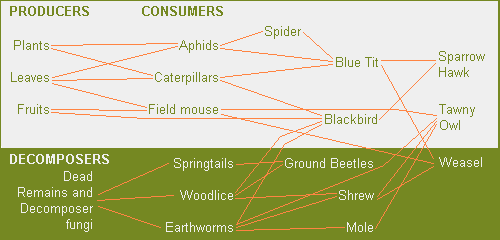 A Simplified Woodland Food Web
Since all animal life is ultimately dependant on the vegetation within an area, the best management practice is always to ensure that the widest possible diversity of vegetation and habitats are available for wildlife to exploit. This can only be achieved by continual sensitive management.
For a listings of animals recorded on the site to-date use the links above