Nine of our members came to the working session which, although slighty less than usual, was still a good turnout considering that at least four of our 'regulars' were away from home.
The priority for the day was to thoroughly rake over the two annual wildflower areas which had been rotovated for us by the Council a couple of weeks ago. This was completed and all the large pieces of stone, brick and other debris were removed. The cornfield seed mixture was then sown in both areas.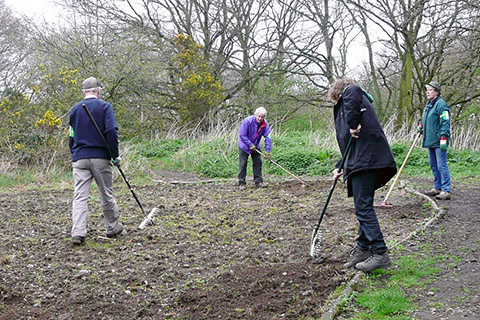 The usual litter picking team did a complete clean up of both reserves and we also added two more bags of gravel to the steps installed last year as the previous gravel had settled creating a potential tripping hazard.
---
The Friends are always looking for extra pairs of hands to help out or to simply support their work, so...
to find out when the next work session will take place, click here, or
to find out about becoming a member please contact us here, or
to discover what goes into managing the sites click here.